Annual Personalized Votive Lights
Traditional Votive Lights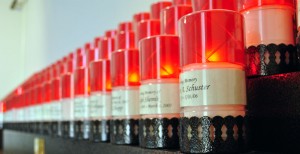 Our Lady of Angels Association is now offering a special way to memorialize your loved ones or offer up your intentions. Although we continue to offer our traditional (non-personalized) votive lights, we now have available lights that are inscribed with your special intention or remembrance, and are lit for one year. A tax deductible donation of $75 per votive light is requested. You may specify a special occasion – Birthday, Anniversary, Wedding or any brief wording of your choice.