---
Mass Enrollment Cards

Our Lady of Angels Association offers enrollment cards for all occasions. Those enrolled share in the twelve Novenas of Masses offered annually for them and their intentions. Always FREE SHIPPING & HANDLING. Browse our selection.
---
Weekly Message From the Director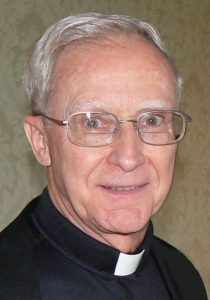 Dear Friend of Our Lady of Angels,
In 2002, Pope (St.) John II added the "Luminous" Mysteries to the Rosary, and in his apostolic letter, "The Rosary of the Virgin Mary" he explained the fittingness of these "mysteries of light." I quote part of that letter –
Moving on from the infancy and the hidden life in Nazareth to the public life of Jesus, our contemplation brings us to those mysteries which may be called in a special way "mysteries of light." Certainly the whole mystery of Christ is a mystery of light. He is the "light of the world". Yet this truth emerges in a special way during the years of his public life, when he proclaims the Gospel of the Kingdom. In proposing to the Christian community five significant moments – "luminous" mysteries – during this phase of Christ's life, I think that the following can be fittingly singled out:
The Baptism of Jesus – at the River Jordan, Christ descends into the waters, the innocent Lamb, who became "sin" for our sake, the heavens open and the voice of the Father proclaims him the beloved Son, while the Spirit descends on him to invest him with the mission of redemption.
The Wedding Feast at Cana – At Cana, through the intervention of Mary, the first among believers, Christ changes water into wine and opens the hearts of the disciples to believe in him.
The Kingdom of God – Jesus proclaims the coming of the Kingdom of God, calls to conversion and forgives the sins of all who draw near to him in humble trust. He continues his ministry of mercy until the end of the world, through the Sacrament of Reconciliation which he has entrusted to his Church.
The Transfiguration – the glory of the Godhead shines forth from the face of Christ as the Father commands the Apostles to "listen to him" and to prepare to experience with him the agony of the Passion, so as to come with him to the joy of the Resurrection and a life transfigured by the Holy Spirit.
The Holy Eucharist – at the Last Supper, Christ offers his body and blood as food under the signs of bread and wine, and testifies "to the end" his love for humanity, for whose salvation he will offer himself in sacrifice.
I share with you the "luminous" mysteries since I think many when praying the Rosary forget to pray these mysteries, myself included.
Devotedly in Our Lady of Angels,
Rev. William J. O'Brien, C.M.
---