Our prayers and our hearts are with you and your loved ones during these troubling times, especially to those who have tested positive for the virus, those caring for loved ones and those who must be isolated and be without work.

As with so many other organizations and businesses, we have taken methods to ensure that our staff members are safe and well protected. Our main office is closed to the walk-in public for the next couple of months and our staff members are working from home until things return to normal.
We are still able to receive orders through our website for those who wish to request Masses to be celebrated, respond to our Appeals and request Mass cards, etc. Emails and Telephone messages will be answered as soon as possible. The mailing of written responses and Mass cards maybe a little delayed. We thank you for your patience and understanding.

Let us continue to pray asking Our Lord and Our Lady of Angels for the healing of those infected and for the safety of their loved ones. Let us also pray that the virus may be controlled and then be stopped. I will also remember you and your loved ones in my Masses and prayers.
May God bless you and your loved ones with His peace, comfort, protection and good health.

Rev. Father O'Brien, C.M.
Executive Director
---
Easter Enrollment Cards
We have Easter Enrollment Cards available to remember your loved ones in three Novenas of Masses celebrated during the Easter season. The Masses are celebrated by the Vincentian Fathers for Our Lady of Angels Association. We ask an offering of $3.00 per card. If you would like a card, please call 1-800-575-9956 or e-mail us at: novena@niagara.edu or: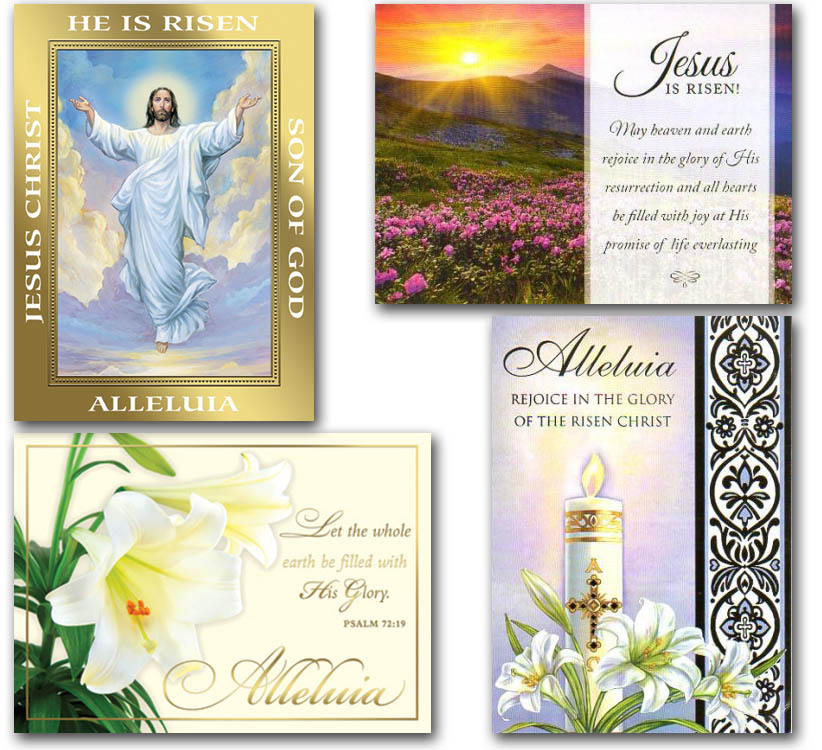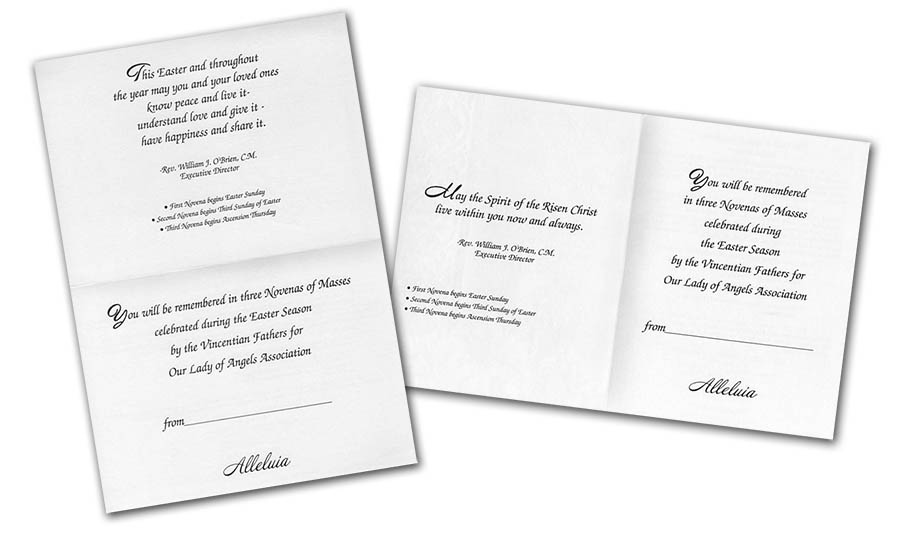 Please be sure to send us the enclosed enrollment form so that the names of those enrolled can be placed at Our Lady's Altar.
---
Mass Enrollment Cards

Our Lady of Angels Association offers enrollment cards for all occasions. Those enrolled share in the twelve Novenas of Masses offered annually for them and their intentions. Always FREE SHIPPING & HANDLING. Browse our selection.
---
Weekly Message From the Director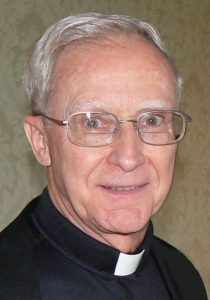 Dear Friend of Our Lady of Angels,
The Church celebrates the Feast of the Annunciation of the Lord on March 25th. I share with you part of the letter of St. Leo the Great taken from the Office of Readings for this Feast.
Lowliness is assured by majesty, weakness by power, mortality by eternity. To pay the debt of our sinful state, a nature that is incapable of suffering was joined to one that could suffer. Thus, in keeping with the healing that we needed, one and same mediator between God and man, the man Jesus Christ, was able to die in one nature, and unable to die in the other.
He who is true God was therefore born in the complete and perfect nature of a true man, whole in his own nature, whole in ours. By our nature we mean what the Creator had fashioned in us from the beginning, and took to himself in order to restore it.
For in the Savior there was no trace of what the deceiver introduced and man, being misled, allowed to enter. It does not follow that because he submitted to sharing in our human weakness he therefore shared in our sins.
He took the nature of a servant without stain of sin, enlarging our humanity without diminishing his divinity. He emptied himself; though invisible he made himself visible, though Creator and Lord of all things he chose to be one of us mortal men. Yet this was the condescension of compassion, not the loss of omnipotence. So he who in the nature of God had created man, became in the nature of a servant, man himself.
Incapable of suffering as God, he did not refuse to be a man, capable of suffering. Immortal, he chose to be subject to the laws of death. He who is true God is also true man. There is no falsehood in this unity as long as the lowliness of man and the preeminence of God coexist in mutual relationship.
One and the same person – this must be said over and over again – is truly the Son of God and truly the son of man. He is God in virtue of the fact that in the beginning was the Word, and the Word was with God, and the Word was God. He is man in virtue of the fact that the Word was made flesh, and dwelt among us.
Devotedly in Our Lady of Angels,
Rev. William J. O'Brien, C.M.
---