Special Angels Society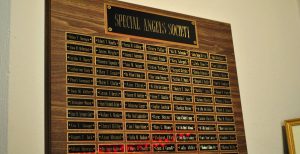 The "Special Angels Society" has been formed to recognize our special friends who have been kind enough to include Our Lady of Angels Association in their wills or estate plans. Each member of this special group has expressed his/her commitment to assist the Association in spreading devotion to Our Blessed Mother, to assist with the education of seminarians and clergy, and also to support priests, religious and laity whose programs minister to and with the poor.
BENEFITS OF MEMBERSHIP
A perpetual enrollment in Our Lady of Angels Association

A remembrance in our weekly Mass and Rosary

Your name will be inscribed on a special plaque to be placed in
our Votive Candle Chapel

A perpetual votive light will burn for the members of the Special
Angels Society.
If you wish to remember Our Lady of Angels Association in your will or estate planning, please continue to our online form.