Gregorian Masses

Gregorian Masses are thirty Masses offered on thirty consecutive days for the same deceased person, in order to obtain the deliverance of that soul from purgatory through the dispensation of God's infinite mercy. Having Gregorian Masses offered for a deceased person is an act of faith and confidence in the infinite power of the Mass with respect to the soul undergoing purgation.
Church Law dictates that Gregorian Masses must fulfill the following conditions:
They must be offered only for one who is deceased.

They must be offered for one deceased person only, not for several deceased persons nor for all the suffering souls at the same time.

When requesting a Gregorian Mass, please be sure to include the name of the deceased (one name only) for whom the Gregorian Mass is to be celebrated.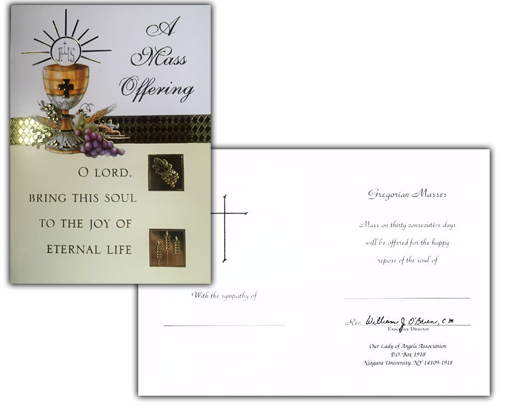 Our Lady of Angels Association is able to arrange for Gregorian Masses. Though as you can appreciate, few priests by reason of their ministries are free and able to offer the 30 consecutive Masses without interruption. Hence, it requires extra time to arrange to have the Gregorian Masses scheduled.
Requests for Gregorian Masses the Association receives are sent to our Vincentian Superior General in Rome. He, in turn, sends the Mass intentions and stipends to Vincentian priests serving in missionary areas throughout the world who are in need of such Mass intentions and stipends to support their works for the poor; they are very grateful to receive them.
PLEASE NOTE: For this reason, I am unable to give you the exact date when these Mass intentions will be offered or where or by whom. All priests are aware of the serious obligation to fulfill all the Masses intentions they receive as quickly as possible.
The one for whom the Gregorian Masses has been requested will also be enrolled as a perpetual member of Our Lady of Angels Association. He or she will also be remembered in the twelve annual Novenas of Masses offered each year.