Gregorian Masses
Gregorian Masses are a series of thirty Masses offered up on thirty consecutive days for the repose of the soul of a particular person in Purgatory. The Sacred Congregation of indulgences has declared, "The offering of thirty Gregorian Masses has a special efficacy for obtaining the Divine Goodness and Mercy the deliverance of a suffering soul is pious and reasonable belief of the Faithful." It is evident, therefore, that the Church, like a kind mother, encourages Gregorian Masses for the souls of her departed children.
Church Law dictates that Gregorian Masses must fulfill the following conditions:
They may be offered only for the deceased.

They may be said for one deceased person only, not for several, nor for all the Poor Souls at the same time.

They must be said one each day for thirty consecutive days. If the series is broken, it must be started all over again. The thirty consecutive Masses need not be said on the same altar or by the same Priest, but they must be said for the same soul each day for thirty days.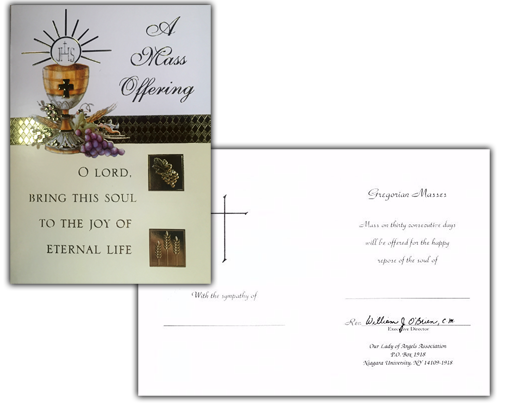 Our Lady of Angels Association is able to arrange for Gregorian Masses. Usually the Gregorian Masses are started for one as soon as possible after death. There is no reason, however, why they may not be said for a deceased person even many years after death. Upon request we would be glad to arrange for the Gregorian Masses for a deceased person. As soon as we receive the request, arrangements will be made for beginning the series of thirty Masses for the repose of the soul. We will also remember your loved one as a perpetual enrollee in Our Lady of Angels Association. As such they will be remembered forever in the twelve annual Novenas of Masses offered by the Association.