Please consider becoming a member or renewing your sustaining
membership in Our Lady of Angels Association for 2016.
---
Lenten Letter – From Fr. Greg Gay, CM, Superior General 
My dear Brothers and Sisters, Members of the Vincentian Family: Lent: a time for Fasting A Story: During a visit to Venezuela where I met with members of the various branches of the Vincentian Family, people spoke about the country's social and economic crisis and its impact on everyday life. People have to wait in long lines to buy basic foodstuffs such as bread, milk, rice, beans, etc.; people have to wait in long lines to purchase soap, toothpaste, paper products; people have to wait in long lines to obtain medicine and medical supplies; people have to wait in long lines at bus stations because of reduced schedules resulting from fewer spare parts … read more.
---
Vincentian News – Seminarians Perform Serve On MLK Day 
Courtesy of Greg Semeniuk, CM 
As a formation house we decided that we volunteer to serve the local community.  Fr. Brian Kane, the Dean of Men at St. Charles Seminary, assigned the Vincentians to Casa del Carmen – formerly St. Henry's Catholic Church.  Here German Catholics worship for many years in a basement church.  Since 1989 the Casa del Carmen has occupied the Church building where there is both parent training center and day care for children.  The staff is Hispanic and bilingual.  Our Vincentian Evangelization Team will recognize the name as site of the lay formation program for the Hispanic Catholics.
Our work was spent outside cleaning the back street.  The service site, near a scrap yard, is close to a street where contractors illegally dump construction materials.  Here drug dealers also supply junkies with heroine and the like.  With little or no help from the city, the area is literally dumped on.  With the help of 20 other college age youth, we bagged the trash and cleaned off the street.  An uncovered manhole posed its own obvious danger, so we stuffed it with tree branches in order to keep passersby and children from falling in and hurting themselves. To conclude the service, Casa del Carmen provided us lunch.  
---
Mass Enrollment Cards
Our Lady of Angels Association offers enrollment cards for all occasions. Those enrolled share in the twelve Novenas of Masses offered annually for them and their intentions. Always FREE SHIPPING & HANDLING. Browse our selection. 

---
Annual Personalized Votive Lights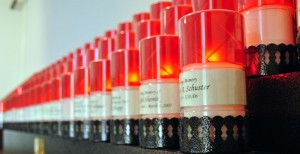 Our Lady of Angels Association is now offering a special way to memorialize  your loved ones or offer up your intentions. Although we continue to offer our traditional (non-personalized) votive lights, we now have  available lights that are inscribed with your special intention or  remembrance, and are lit for one year in Our Lady of Angels Votive Light Chapel on the campus of Niagara University. A tax deductible donation  of $75 per votive light is requested. You may specify a special  occasion – Birthday, Anniversary, Wedding or any brief wording of your choice. Light a Vigil Candle…
---