---
Mass Enrollment Cards

Our Lady of Angels Association offers enrollment cards for all occasions. Those enrolled share in the twelve Novenas of Masses offered annually for them and their intentions. Always FREE SHIPPING & HANDLING. Browse our selection.
---
Weekly Message From the Director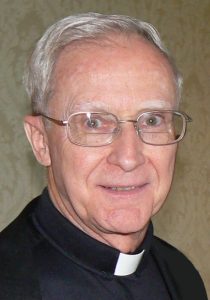 Dear Friend of Our Lady of Angels,
On September 27th, the Church celebrates the feast of St. Vincent de Paul. In 1625, seeing the need to minister to the poor people living in the rural areas outside Paris, France, he founded the Congregation of the Mission. This is the congregation of which I am a member. Hence, the initials C.M. after my name. In the United States, we are more commonly known as the Vincentian Community of Priests and Brothers.
The people living in the rural areas had very few priests serving them, and often these priests were poorly educated in matters of the Catholic faith. Vincent gradually had other priests joining him. They would go around vising the poor who labored on the estates of wealthy landowners. They would then gather these peasants together and began to instruct them in matters of faith and morals.
Seeing the need to offer loving care for the sick and the dying who were often living in squalid conditions in over-crowded hospitals or in their own homes, together with (St.) Louise de Marillac, they founded, in 1633, the Community of the Daughters of Charity. The purpose of this Community was to serve the sick poor in their homes and eventually in hospitals. This was the first Community of women, at that time, which would not be cloistered. This is why they were given the title "Daughter" rather than "Sister."
Seeing the overwhelming needs of the poor, Vincent and Louise enlisted the help of the laity, men and women, the young and the elderly, to assist them in their works for the poor. One group of women which they involved in their ministries with the poor were wealthy women of noble birth. In the winter of 1634, this group of women began to be called the Ladies of Charity.
Vincent was born on April 24, 1581 in a small town in southern France. He was ordained in September 23, 1600 when he was nineteen years old, a very early age even for those days. Initially, he wanted to secure a profitable benefice which would enable him to support his parents and himself.
However, God had different plans for him. Eventually, he recognized that God was calling him to dedicate his life to the service of the poor. He died on September 27, 1660 and was canonized on June 13, 1737. He was named the Patron of All Organizations of Charity on May 12, 1885.
Devotedly in Our Lady of Angels,
Rev. William J. O'Brien, C.M.
---