Please be partners with us and the Vincentian family
in our service to the poor. 
---
PAPAL MASS – SEPTEMBER 26, 2015
Dear Members of Our Lady of Angels Association,
On Saturday, September 26th, I had the opportunity to attend the Papal Mass celebrated in the Cathedral of Saints Peter and Paul in Philadelphia.  It was a very moving experience for me, as I am sure it was for all those present for the Mass.  Somehow I was fortunate enough to find myself near the front of the procession line as we entered the Cathedral.  Consequently, I was seated in the sanctuary and was within twenty-five feet of the altar.  So I had a very clear view of the Pope as he celebrated Mass.
I carried with me the special intentions that you had sent me and remembered all of them as I concelebrated Mass with the Pope.  (I also remembered all of the Association's members and benefactors.)  The Cathedral was filled to capacity with members of the hierarchy (several cardinals and a number of bishops), clergy, religious, and members of the laity who represented the various parishes in the Archdiocese.
The Pope's homily stressed, as most of his homilies and talks do, the need to be people of faith, giving witness by our lives that we are followers of Jesus; as such, we need to reach out to all with charity and mercy.
If you followed some of the events of the Pope's visit on TV, I am sure that, like me, you were inspirited by Pope Francis' simplicity and humility.  It was quite amusing to see his little Fiat surrounded by the large SUV's carrying his security entourage.
At the conclusion of his meeting with groups of people, Pope Francis often ends by asking those gathered – "please pray for me!"  Let us continue to pray for the safety and well-being Pope Francis as he leads the Church.
Devotedly in Our Lady of Angels,
Rev. William J. O'Brien, C.M.
---
Mass Enrollment Cards
Our Lady of Angels Association offers enrollment cards for all occasions. Those enrolled share in the twelve Novenas of Masses offered annually for them and their intentions. Always FREE SHIPPING & HANDLING. Browse our selection.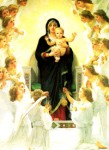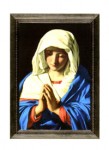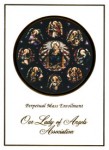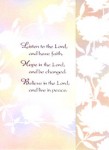 ---
Annual Personalized Votive Lights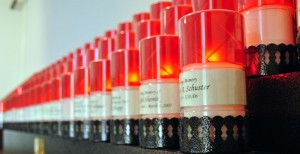 Our Lady of Angels Association is now offering a special way to memorialize  your loved ones or offer up your intentions. Although we continue to offer our traditional (non-personalized) votive lights, we now have  available lights that are inscribed with your special intention or  remembrance, and are lit for one year in Our Lady of Angels Votive Light Chapel on the campus of Niagara University. A tax deductible donation  of $75 per votive light is requested. You may specify a special  occasion – Birthday, Anniversary, Wedding or any brief wording of your choice. Light a Vigil Candle…
---