Devotion to Mary

Please be partners with us and the Vincentian family in our service to the poor.
"… by working for the salvation of the poor, you assure your own." St. Vincent de Paul
Thanksgiving Day is a day for attending Mass, family reunions and for thanking God for his blessings on us and on those we love. But, what about those who are alone or do not have the means to prepare a holiday meal?  Unfortunately, even in this bountiful country, not everyone can afford a big traditional feast and get together. 
Our Lady of Angels Association raises funds to help support programs for the poor and marginalized in our country.  Among these programs are numerous food pantries and soup kitchens.  Some of the programs receiving assistance are located in Niagara Falls, Philadelphia, Baltimore, Charlotte, Chicago and Brooklyn.  A number of university students attending Niagara University, St. John's University (Jamaica, New York) and DePaul University (Chicago, Illinois) are regular volunteers at such centers. 
We ask that you help us make a difference in the lives of those who are in need by your generous support of Our Lady of Angels Association.  Be assured that our soup kitchens and food pantries provide services every day, not just on Thanksgiving.
Please consider making an offering to help those who do not have the opportunity to celebrate as you would on Thanksgiving Day. Make your Thanksgiving offering HERE.
All Souls Enrollment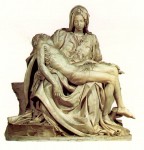 November is the month of the Holy Souls. The Church prays in a special way for those who are in need of purification. Beginning with the Feast of All Saints, Our Lady of Angels Association will offer a Mass  each day for your beloved deceased who are enrolled. Read more… 
Vincentian Profile – Rev. Robert Joseph Brandenberger, C.M.
At almost ninety-five years of age, Father Brandenberger reports, "I am in good health, and I'm happily retired here at St. Catherine's Infirmary," a wing of St. Vincent's Seminary in Philadelphia. 
Father Brandenberger was born on January 16, 1920 in Meriden, Connecticut.  He was raised in a loving family, along with his parents and two brothers: James and John.  
Father attended St. Joseph's Parochial School and graduated from the local High School in 1938.  After working two years, he entered Niagara University in September of 1940.  He was impressed by all of the Vincentian priests who staffed the University, but especially with Fathers Louis Meade, C.M. and Michael Flannery, C.M. 
During his time at Niagara, he had thoughts of entering the priesthood but "I didn't share this with anyone."  Leaving Niagara in 1942, he volunteered for the United States Marine Corp in January of 1942.  (He was to return later to finish his education at Niagara.)  He trained at Parris Island (SC) and then continued on to Quantico (VA) for officers' training. 
During World War II, Father served in the South Pacific Theater – in the Mariana and Palau Islands, Guam and other areas.  (During the war, his brother, James, was killed while serving in the Navy; his brother, John, served in the Navy Air Corp during the war and remained in the service for twenty-five years.) 
After the war, having received his degree from Niagara, he entered the Vincentian Novitiate in September of 1946 to begin preparing for the priesthood in the Vincentian Community.  After two years at the Novitiate (in Philadelphia), he began his theology studies at Mary Immaculate Seminary in Northampton, PA.  He was ordained a priest on June 7, 1952. 
After ordination, Father was assigned to Balboa in the Canal Zone of Panama.  Later he ministered in Puerto Armuelles and Colon in the Republic of Panama.  Father spent thirty years in Panama. 
After returning to the States, Father was assigned to be Superior of St. Vincent's Seminary a position he held for nine years.  He then served as a chaplain in Carney Hospital in Boston, MA.  He then returned to Philadelphia where he served in various ministries at local parishes and at the Miraculous Medal Shrine, adjacent to St. Vincent's Seminary. 
Father Brandenberger has had a long and fruitful ministry serving God and God's people for sixty-two years as a Vincentian Priest.  Please remember him in your prayers.  Pray also that more men will respond to God's call to serve as a priest or brother in the Vincentian Community. 
Mass Enrollment Cards:   Our Lady of Angels Association makes available to its members enrollment cards for all occasions. Those enrolled share in the twelve Novenas of Masses offered annually for them and their intentions. Always FREE SHIPPING & HANDLING. Browse our selection.
You can rest assured that Our Lady of Angels Association respects your privacy
and does not rent, sell or lend your name to other organizations.