---
2018 Vincentian Charities Dinner
In celebration of our 100th anniversary, the Association will be sponsoring a fund-raising dinner on June 7, 2018 at the Niagara Falls Country Club beginning at 5:30 p.m. At the dinner, the Association will be honoring its volunteers: Thomas and Doreen Hofschneider, Joan Penzotti and Andrea Sirianni, in recognition of their services. James and Mary Glynn, the St. Vincent
de Paul Societies of St. Peter's Parish (Jim Allen) and St. Vincent de Paul Parish (Barbara Skowronski) will be honored for their efforts to improve the conditions of those living in our community.
Money raised by this event will be used to support grants that are offered through the Vincentian Community's "Eastern Province Grant Fund." This year, three local organizations – The Isaiah 61 Project, Niagara University BASIC Service Immersion and the Niagara Falls South End Revitalization Initiative – each received a grant from the "Eastern Province Grant Fund" for 2018. In the past other local organizations have received grants from this fund.
For tickets and more information, please contact LuAnn Mastrolembo at 716-754-0035 or at Lmastrolembo@niagara.edu.
---
Mass Enrollment Cards

Our Lady of Angels Association offers enrollment cards for all occasions. Those enrolled share in the twelve Novenas of Masses offered annually for them and their intentions. Always FREE SHIPPING & HANDLING. Browse our selection.
---
Weekly Message From the Director
Dear Friend of Our Lady of Angels,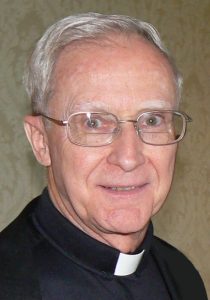 Today we celebrate the Feast of Pentecost which brings an end to the Easter Season. I share with you part of a teaching entitled "Against Heresies" by St. Irenaeus.
When the Lord told his disciples to "go and teach all nations and to baptize them in the name of the Father and of the Son and of the Holy Spirit," he conferred on them the power of giving men new life in God.
Luke says that the Spirit came down on the disciples at Pentecost, after the Lord's ascension, with power to open the gates of life to all nations and to make known to them the new covenant. So it was that men of every language joined in singing one song of praise to God, and scattered tribes, restored to unity by the Spirit, were offered to the Father as the first-fruits of all the nations.
This was why the Lord had promised to send the Advocate: he was to prepare us as an offering to God. Like dry flour, which cannot become one lump of dough, one loaf of bread, without moisture, we who are many could not become one in Christ Jesus with the water that comes down from heaven.
And like parched ground which yields no harvest unless it receives moisture, we who were once like a waterless tree could never have lived and borne fruit without this abundant rainfall from above. Through the baptism that liberates us from change and decay we have become one in body; through the Spirit we have become one in soul.
If we are not to be scorched and made unfruitful, we need the dew of God. Since we have our accuser, we need an Advocate as well. And so the Lord in his pity for man, who had fallen into the hands of brigands, having himself bound up in his wounds and left for his care two coins bearing the royal image, entrusted him to the Holy Spirit.
Now, through the Spirit, the image and inscription of the Father and the Son have been given to us, and it is our duty to use the coin committed to our charge and make it yield a rich profit for the Lord.
Devotedly in Our Lady of Angels,
Rev. William J. O'Brien, C.M.
---