---
2018 Vincentian Charities Dinner
The Our Lady of Angels Association 100th Anniversary Dinner was held on June 7, 2018. Thank you to all of the benefactors and attendees for making it such a wonderful evening. The Association honored (from left to right): Barbara Skowronski, Joan Penzotti, Doreen and Tom Hofschneider, Andrea Sirianni, Jim Allen, James and Mary Glynn. Father O'Brien – Executive Director of Our Lady of Angels Association.
The proceeds from our Annual Event are used to support the works of the Association, one of which is to help fund the Vincentian Charities Grant Program. This program is funded by the Eastern Province of the Congregation of the Mission. Vincentian Charities offers grants to charitable organizations which work to assist the poor and the needy.
One such grant was awarded to the Niagara Falls South End Housing Initiative (SEHI). A partnership of 25 community partners and residents under the leadership of Niagara University's Rev. Joseph L. Levesque, C.M. Institute for Civic Engagement, the object of the initiative is to revitalize housing in the South End of the city to support $50 million dollars in economic development investments. By refurbishing the existing homes and looking at new housing units, the neighborhoods gain "curb appeal" to possible investors and expand mixed use development throughout the South end of the city. Almost 42 percent of the people living in this area of Niagara Falls are living in poverty; among the most in Niagara County and among the highest rates in the state. On May 16, 204 community volunteers participated in "Rock the Block" performing minor repairs, landscaping and blight removal to 35 houses, vacant lots and 10 alleyways.
---
Mass Enrollment Cards

Our Lady of Angels Association offers enrollment cards for all occasions. Those enrolled share in the twelve Novenas of Masses offered annually for them and their intentions. Always FREE SHIPPING & HANDLING. Browse our selection.
---
Weekly Message From the Director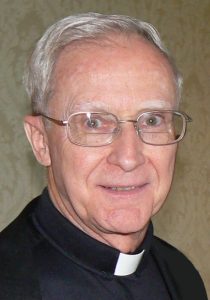 Dear Friend of Our Lady of Angels,
This week on Wednesday, July 4th, we will celebrate, in the United States, Independence Day. I share with you the opening prayer and a part of the preface from the Mass we can celebrate this holiday.
OPENING PRAYER:
Father of all nations and ages, we recall the day when our country
claimed its place among the family of nations;
for what has been achieved we give you thanks,
for the work that still remains we ask your help,
and as you have called us from many people to be one nation,
grant that, under your providence, our country may share your blessings
with all the peoples of the earth.
FROM THE PREFACE OF THE MASS:
It is truly right and just, our duty and our salvation,
always and everywhere to give you thanks,
Lord, Holy Father, almighty and eternal God,
through Christ our Lord.
He (Jesus) spoke to us a message of peace
and taught us to live as brothers and sisters.
His message took form in the vision of our founding fathers
as they fashioned a nation where we might live as one.
His message lives on in our midst as our task for today
and a promise for tomorrow.
Today, we live in a troubled world. Wars and terroristic threats are a reality we live with every day. While there are divisions within our own country, we are still aware of the blessings and freedoms we enjoy. Let us thank the Lord for the blessings He has poured forth upon us. Let us also pray for those people who do not enjoy such blessings and freedoms.
Devotedly in Our Lady of Angels,
Rev. William J. O'Brien, C.M.
---