---
Mass Enrollment Cards

Our Lady of Angels Association offers enrollment cards for all occasions. Those enrolled share in the twelve Novenas of Masses offered annually for them and their intentions. Always FREE SHIPPING & HANDLING. Browse our selection.
---
Weekly Message From the Director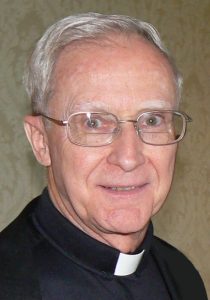 Dear Friend of Our Lady of Angels,
Since we honor our Blessed Mother under her title of Our Lady of Angels, I will be sharing, this week and next week, some reflections on Angels.
The existence of the spiritual, non-corporeal beings that Sacred Scripture usually calls "angels" is a truth of our faith. The witness of Scripture is as clear as is the unanimity of Tradition.
St. Augustine says, "The word angel is the name of their office, not of their nature. As to its nature, an angel is a spirit. As to its office, an angel is a servant or messenger of God. Because angels always behold the face of God the Father, they are the mighty ones who hear God's Word and do God's Word. (Catechism of the Catholic Church #328-329)
As purely spiritual creatures, angels have intelligence and free will: they are personal and immortal creatures, surpassing in perfection all visible creatures, as the splendor of their glory bears witness. (Catechism of the Catholic Church #330)
Examples of mention of angels in the Old Testament –
We read how angels have been present since creation and throughout the History of Salvation, announcing this salvation from afar or near and serving the accomplishment of the divine plan: they closed the gates of the earthly paradise; protected Lot; saved Hagar and her child; stayed Abraham's hand; communicated the Law by their ministry; led the People of Israel; announced births and callings; and assisted the prophets – to cite just a few examples. (CCC #332)
Angels are often mentioned in the Psalms, for example –
Give to the Lord, you heavenly beings (angels), give to the Lord glory and might; give to the Lord the glory due God's name. Bow down before the Lord's holy splendor. (Psalm 29:1-2)
In my misfortune I called, the Lord heard and saved me from all distress. The angel of the Lord, who encamps with them, delivers all who fear God. (Psalm 34:7-8)
Bless the Lord, all you angels, mighty in strength and attentive, obedient to every command. Bless the Lord, all you hosts, ministers who do God's Will. (Psalm 103:20-21)
In next week's message, I'll continue to share some reflections on angels.
Devotedly in Our Lady of Angels,
Rev. William J. O'Brien, C.M.
---