Devotion to Mary

Please be partners with us and the Vincentian family in our service to the poor.
Mass Enrollment Cards
Our Lady of Angels Association makes available to its members enrollment cards for all occasions. Those enrolled share in the twelve Novenas of Masses offered annually for them and their intentions. Always FREE SHIPPING & HANDLING. Browse our selection.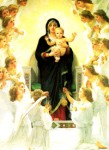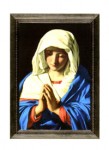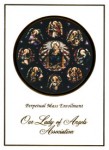 "… by working for the salvation of the poor, you assure your own." St. Vincent de Paul
Thanksgiving Day is a day for attending Mass, family reunions and for thanking God for his blessings on us and on those we love. But, what about those who are alone or do not have the means to prepare a holiday meal?  Unfortunately, even in this bountiful country, not everyone can afford a big traditional feast and get together. 
Our Lady of Angels Association raises funds to help support programs for the poor and marginalized in our country.  Among these programs are numerous food pantries and soup kitchens.  Some of the programs receiving assistance are located in Niagara Falls, Philadelphia, Baltimore, Charlotte, Chicago and Brooklyn.  A number of university students attending Niagara University, St. John's University (Jamaica, New York) and DePaul University (Chicago, Illinois) are regular volunteers at such centers. 
We ask that you help us make a difference in the lives of those who are in need by your generous support of Our Lady of Angels Association.  Be assured that our soup kitchens and food pantries provide services every day, not just on Thanksgiving.
Please consider making an offering to help those who do not have the opportunity to celebrate as you would on Thanksgiving Day. Make your Thanksgiving offering HERE.
Guided By Angels
By Ann Rooney Heuer, '78 
For centuries, angels have been an integral part of a number of world faiths.  Global fascination with these heavenly messengers has made angels popular subjects for religious art, as well as gift items, books, and memorable television programs such as "Touched by an Angel" and classic films like "It's a Wonderful Life."  According to Monica Saltarelli, '86, Niagara University campus minister and part-time religious studies faculty member, millions of people around the world believe in angels, and she is decidedly among them.  Since the 1990's, when Saltarelli first presented a lecture on angels to a regional diocesan catechist workshop, she has immersed herself in the biblical-based study of these spiritual beings. READ MORE…
Padded Mass Folders

Our Lady of Angels offers Padded Mass Folders for Perpetual Enrollment, Gregorian Masses, Baptism, First Communion, Confirmation, Wedding and Wedding Anniversary.
You can rest assured that Our Lady of Angels Association respects your privacy
and does not rent, sell or lend your name to other organizations.