Please be partners with us and the Vincentian family
in our service to the poor. 
---
The Pope Is Coming !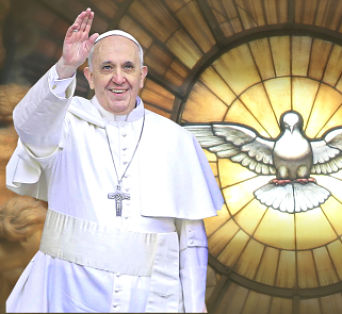 As you know, Pope Francis is visiting the United States the week of September 22, 2015. He is coming to take part in the Eighth World Meeting of Families. This is the Pope's first visit to the United States; it is also the first time that the World Meeting of Families is being held in our country. 
This event "seeks to strengthen the sacred bonds of family life across the globe and highlights its intrinsic value for the good of society!" The theme for the event is, "Love is our Mission: the Family Fully Alive."
Pope Francis will celebrate a Papal Mass on Sunday, the 27th of September. I will have the privilege of attending this Papal Mass. I would like to carry your petitions with me to the Mass. Perhaps, you will have special petitions for your family: for good health for your family members, prayers for your children, especially for those who may have stopped attending Mass, peace within your family and so forth.
Many of our Vincentian Works for the poor are concerned with family matters: educating families as to how to budget their money, better relationships with family members, offering faith formation programs for family members (adults and children), offering programs for single parents and for the elderly.
If you are able, please consider sending a donation to assist in our works for the poor. List your intentions here.
---
Mass Enrollment Cards
Our Lady of Angels Association offers enrollment cards for all occasions. Those enrolled share in the twelve Novenas of Masses offered annually for them and their intentions. Always FREE SHIPPING & HANDLING. Browse our selection.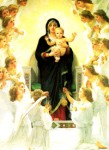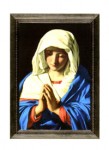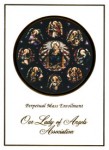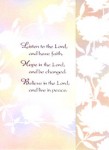 ---
Annual Personalized Votive Lights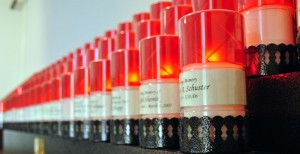 Our Lady of Angels Association is now offering a special way to memorialize  your loved ones or offer up your intentions. Although we continue to offer our traditional (non-personalized) votive lights, we now have  available lights that are inscribed with your special intention or  remembrance, and are lit for one year in Our Lady of Angels Votive Light Chapel on the campus of Niagara University. A tax deductible donation  of $75 per votive light is requested. You may specify a special  occasion – Birthday, Anniversary, Wedding or any brief wording of your choice. Light a Vigil Candle…
---
Celebrating 100 Years Of Life
On August the 7th, last Friday, Father John Cusack, CM celebrated his 100th birthday at St. Vincent's Seminary, Philadelphia.
The dining room at the seminary was filled to capacity (view the slideshow).  Father Cusack's family was present; however, his older sister who is 103 years old could not attend … rumor has it, she had an appointment at the hair dresser!  View slideshow