Devotion to Mary

Please be partners with us and the Vincentian family in our service to the poor.
All Souls Enrollment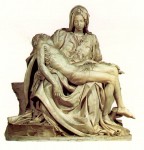 November is the month of the Holy Souls. The Church prays in a special way for those who are in need of purification. Beginning with the Feast of All Saints, Our Lady of Angels Association will offer a Mass  each day for your beloved deceased who are enrolled. Read more… 
Our Lady of Angels – Our Patroness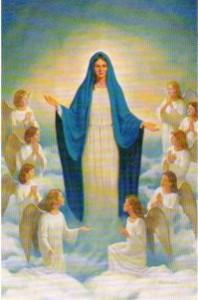 In the year of 1045 there was a chapel in Assisi called "Our Lady of Angels" because of the belief that angels had, in the past, appeared there.  When St. Francis arrived there in 1207, the church had fallen into disrepair.  Jesus appeared to Francis there and told him, "Francis, go and repair my house which, as you can see, is falling into ruins."  Taking these words literally, he began to restore several small chapels in and around Assisi, including the chapel of St. Mary of the Angels.  He came to realize, however, that his mission was not to rebuild or restore physical buildings but to restore and build up The Church, the Body of Christ. 
It was in the small chapel, known as the Portiuncula or St. Mary of the Angels, that Francis heard the call to dedicate his life to Jesus.  At this point, he began to reach out and to serve the needs of the sick and poor.  He committed himself to serving Jesus and "Lady Poverty." 
The feast honoring Our Lady of Angels is celebrated on August 2nd. Prayer to Our Lady of Angels
Mass Enrollment Cards:   Our Lady of Angels Association makes available to its members enrollment cards for all occasions. Those enrolled share in the twelve Novenas of Masses offered annually for them and their intentions. Always FREE SHIPPING & HANDLING. Browse our selection.
You can rest assured that Our Lady of Angels Association respects your privacy
and does not rent, sell or lend your name to other organizations.