---
Mass Enrollment Cards

Our Lady of Angels Association offers enrollment cards for all occasions. Those enrolled share in the twelve Novenas of Masses offered annually for them and their intentions. Always FREE SHIPPING & HANDLING. Browse our selection.
---
Weekly Message From the Director
Dear Friend of Our Lady of Angels,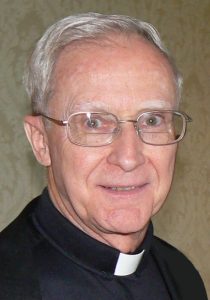 We celebrate the feast of St. Joseph on March 19th. Our only reliable information we have for Joseph is found in the Infancy narratives of the Gospels of St. Matthew and St. Luke. According to them, Joseph was of royal descent from King David. His family came from Bethlehem but he moved to Nazareth where he was a carpenter.
I share with you part of a more spiritual account about Saint Joseph taken from a sermon by St. Bernadine of Siena, priest.
There is a general rule concerning all special graces granted to any human being. Whenever the divine favor chooses someone to receive a special grace, or to accept a lofty vocation, God adorns the person chosen with all the gifts of the Spirit needed to fulfill the task at hand.
This general rule is especially verified in the case of Saint Joseph, the foster-father of our Lord and the husband of Mary. He was chosen by the eternal Father as the trustworthy guardian and protector of his greatest treasures, namely, his divine Son and Mary, Joseph's wife. He carried out this vocation with complete fidelity until his death.
What then is Joseph's position in the whole Church of Christ? Is he not a man chosen and set apart? Through him and, yes under him, Christ was fittingly and honorable introduced into the world. Holy Church in its entirety is indebted to the Virgin Mother because through her it was judged worthy to receive Christ. But after her we undoubtedly owe special gratitude and reverence to Saint Joseph.
Obviously, Christ does not now deny to Joseph that intimacy, reverence and very high honor which he gave him on earth, as a son to his father. Rather we must say that in heaven Christ completes and perfects all that he gave at Nazareth.
Remember us, Saint Joseph, and plead for us to your foster-child. Ask your most holy bride, the Virgin Mary, to look kindly upon us, since she is the mother of him who with the Father and the Holy Spirit lives and reigns eternally. Amen.
Remembering that Saint Joseph is the patron of a "Happy Death," let us ask that he be with those who are currently facing the reality of their deaths; and let us ask that he be with us when we must also face the reality of our own deaths.
Devotedly in Our Lady of Angels,
Rev. William J. O'Brien, C.M.
---
Annual Personalized Votive Lights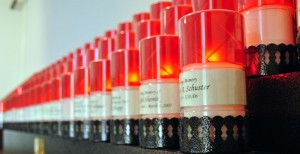 Our Lady of Angels Association is now offering a special way to memorialize your loved ones or offer up your intentions. Although we continue to offer our traditional (non-personalized) votive lights, we now have available lights that are inscribed with your special intention or remembrance, and are lit for one year in Our Lady of Angels Votive Light Chapel on the campus of Niagara University. A tax deductible donation of $75 per votive light is requested. You may specify a special occasion – Birthday, Anniversary, Wedding or any brief wording of your choice. Light a Vigil Candle…
---