---
Mass Enrollment Cards

Our Lady of Angels Association offers enrollment cards for all occasions. Those enrolled share in the twelve Novenas of Masses offered annually for them and their intentions. Always FREE SHIPPING & HANDLING. Browse our selection.
---
Weekly Message From the Director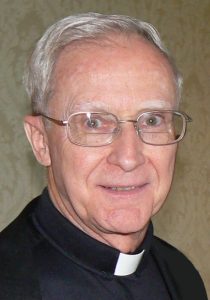 Dear Friend of Our Lady of Angels,
I share with you part of the homily preached by St. Amadeus of Lausanne, bishop, on the Feast of the Queenship of Mary. It is taken from the Office of Readings for the feast.
Observe how fitting it was that even before her assumption the name of Mary shone forth wondrously throughout the world. Her fame spread everywhere even before she was raised above the heavens in her magnificence.
Because of the honor due her Son, it was indeed fitting for the Virgin Mother to have first ruled
this world below so that she might enter the heights of heaven in overwhelming blessedness. Just as she was borne from virtue to virtue by the Spirit of the Lord, she was transported from earthly renown to heavenly brightness.
So it was that she began to taste the fruits of her future reign while still in the flesh. At one moment she withdrew to God in ecstasy; at the next she would bend down to her neighbors with indescribable love. In heaven angels served her, while here on earth she was venerated by the service of men. Gabriel and the angels waited upon her in heaven.
The virgin John, rejoicing that the Virgin Mother was entrusted to him at the cross, cared for her with the other apostles here below. The angels rejoiced to see their queen; the apostles rejoiced to see their lady, and both obeyed her with loving devotion.
Dwelling in the loftiest citadel of virtue, like a sea of divine grace or an unfathomable source of love that has everywhere overflowed its banks, she poured forth her bountiful waters on trusting and thirsting souls. Able to preserve both flesh and spirit from death, she bestowed health-giving salve on bodies and souls.
Has anyone ever come away from her troubled or saddened or ignorant of the heavenly mysteries? Who has not returned to everyday life gladdened and joyful because his request had been granted by the Mother of God?
Devotedly in Our Lady of Angels,
Rev. William J. O'Brien, C.M.
---
The Green Scapular-
Miracles of Health, Peace and Conversion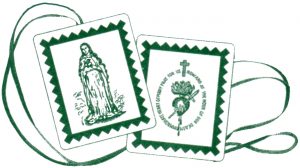 Jesus tells us, "Take up your cross each day and follow me!" One's cross can come in various ways: the death or illness of a loved one, one's own illness or disability, the loss of a job or financial problems, a form of addiction – one's own or that of a loved one, and so on. Today, parents even have to worry about their children's safety when they send them to school.
As your loving mother, Mary knows the cross or crosses you must bear. Mary offers us many signs of her protective love. One such sign is her gift of the Green Scapular – also known as the "Badge of the Immaculate Heart of Mary."
The Green Scapular was given to Sister Justine Bisqueyburu, a Daughter of Charity of St. Vincent de Paul, through a revelation she received from Our Blessed Mother on September 8, 1840.
The scapular consisted of a small piece of green cloth suspended from a green cord. On the front side was an image of the Blessed Mother as she had shown herself to Sister Justine in previous apparitions. On the reverse side was the image of a heart ablaze with rays. The heart was pierced with a sword and was surmounted by a gold cross. Encircling the heart was the prayer: "Immaculate Heart of Mary, pray for us, now and at the hour of our death."
An interior voice revealed to Sister Justine that God desired to establish among people a more tender and confident appreciation and love of His Most Beloved Mother by means of devotion to her through the title of her Immaculate Heart. When invoked under this title and through the holy image, Mary would obtain great favors from her Divine Son, especially in the areas of physical health, peace of mind and spiritual conversion.
The scapular may be worn or carried in one's pocket. The prayer found on the scapular should be recited once daily. If intended for another, if the person is unwilling to wear or carry it, it may be placed, unknown to him or her, in his room or in his or her possessions. The prayer should be recited daily by the one placing the scapular.
The scapular has been approved by Pope Pius IX in 1863 and again in 1870.
Father O'Brien will be offering a Triduum of Masses (September 13th through September 15th) for your intentions for the need for any type of healing be it physical, psychological or spiritual. We will also be happy to send you a Green Scapular. The Scapular has been blessed, and there is no need for any formal rite enrollment.