Please consider becoming a member or renewing your sustaining
membership in Our Lady of Angels Association for 2016.
---
Mass Enrollment Cards
Our Lady of Angels Association offers enrollment cards for all occasions. Those enrolled share in the twelve Novenas of Masses offered annually for them and their intentions. Always FREE SHIPPING & HANDLING. Browse our selection. 

---
One of the Ways We Assist the Poor Through Vincentian Charities:
Our Lady of Guadalupe Parish in Charlotte, North Carolina, is one example of how a parish is able to provide various programs which assist the poor because of grants received through the St. Vincent Fund.
A legal aid fund to help, especially single mothers who are eligible for documents but who are not able to pay the necessary government fees which are normally around $2,000.00.

A food pantry to assist those who do not qualify for food stamps and/or other means of assistance.

A counseling program, free of charge, to assist troubled youth and adults.

A monthly medical clinic where four doctors offer their services, free of charge, for those who have no health insurance.  One example of the need for assistance – a child broke his elbow in three places.  When taken to the emergency room, the mother was told that she would have to pay $2,000.00 up front for the needed surgery.  One of the doctors mentioned above arranged for the operation to be paid by way of a Physicians' Out-reach, a non-profit group.  The mother will have to pay very little.
We are grateful for your on-going support for Our Lady of Angels Association's ministries and especially its support for those programs which receive grants through the St. Vincent Fund (Vincentian Charities).
We ask that you please consider sending a donation so that the Association can continue to support such programs.  As a sign of gratitude for your support, you and your loved ones will be remembered in a Mass offered on September 8th, the birthday of Our Blessed Mother.  You will also be remembered in the Association's twelve annual Novenas of Masses.
---
Annual Personalized Votive Lights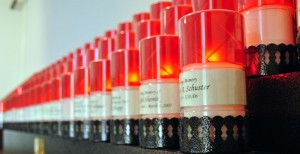 Our Lady of Angels Association is now offering a special way to memorialize  your loved ones or offer up your intentions. Although we continue to offer our traditional (non-personalized) votive lights, we now have  available lights that are inscribed with your special intention or  remembrance, and are lit for one year in Our Lady of Angels Votive Light Chapel on the campus of Niagara University. A tax deductible donation  of $75 per votive light is requested. You may specify a special  occasion – Birthday, Anniversary, Wedding or any brief wording of your choice. Light a Vigil Candle…
---