---
Mass Enrollment Cards

Our Lady of Angels Association offers enrollment cards for all occasions. Those enrolled share in the twelve Novenas of Masses offered annually for them and their intentions. Always FREE SHIPPING & HANDLING. Browse our selection.
---
Weekly Message From the Director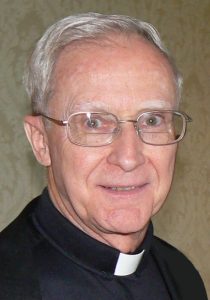 Dear Friend of Our Lady of Angels,
I share with you a reading from a homily, "In Praise of the Virgin Mary," preached by Saint Bernard. It is taken from the Office of Readings for December 20th.
You have heard, O Virgin, that you will conceive and bear a son; you have heard that it will not be by man but by the Holy Spirit. The angel awaits an answer; it is time for him to return to God who sent him. We too are waiting, O Lady, for your word of compassion; the sentence of condemnation weighs heavily upon us.
The price of our salvation is offered to you. We shall be set free at once if you consent. In the eternal Word of God we all came to be, and behold, we die. In your brief response we are to be remade in order to be recalled to life.
Tearful Adam with his sorrowing family begs this of you, O loving Virgin, in their exile from Paradise. Abraham begs it, David begs it. All the other holy patriarchs, your ancestors, ask it of you, as they dwell in the country of the shadow of death. This is what the whole earth waits for, prostrate at your feet.
Answer quickly, O Virgin. Reply in haste to the angel, or rather through the angel to the Lord. Answer with a word, receive the Word of God. Speak your own word, conceive the divine Word. Breathe a passing word, embrace the eternal Word.
Why do you delay, why are you afraid? Believe, give praise, and receive. Let humility be bold, let modesty be confident. This is no time for virginal simplicity to forget prudence. In this matter alone, O prudent Virgin, do not fear to be presumptuous.
Though modest silence is pleasing, dutiful speech is now more necessary. Open your heart to faith, O blessed Virgin, your lips to praise, your womb to the Creator. See the desired of all nations is at your door, knocking to enter. If you should pass by because of your delay, in sorrow you would begin to seek him afresh, the One whom your soul loves.
Arise, hasten, open. Arise in faith, hasten in devotion, open in praise and thanksgiving. "Behold the handmaid of the Lord," she says, "be it done to me according you your word."
As we continue through this Advent Season, let pray that it will be a time when we are open to the graces the Lord wants to pour forth on us.
Devotedly in Our Lady of Angels,
Rev. William J. O'Brien, C.M.
---
Christmas Novenas of Masses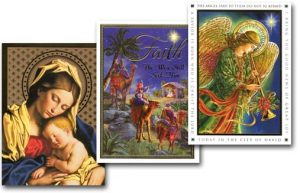 Give a spiritual gift and enroll yourself and/or loved ones in the Three Novenas of Masses offered during the Christmas Season by the Vincentian Fathers for Our Lady of Angels Association. You and those you enroll will be included in the 3 Christmas Novenas of Masses celebrated during the Christmas Season. (Christmas Day, Feast of Mary – Mother of God and Feast of Epiphany).
The offering you make will be used to assist our Vincentian priests and brothers who are working with the poor.
We have available Christmas cards for a $3.00 offering each. Enroll and order cards.
---
Festival of Trees

Our Lady of Angels Association will be participating in the annual Festival of Trees at the New York Power Authority. Trees along the Niagara Power Vista's glass walkway are decorated by area non-profit organizations. The trees will be on display December 1st to January 1st.
With a donation to help our Vincentian soup kitchens during the Christmas season, we will add your name to an ornament (or "In honor of …" or "In memory of …").