Please consider becoming a member or renewing your sustaining
membership in Our Lady of Angels Association for 2016.
---
The Feast Day of St. Vincent de Paul – September 27th
St. Vin
cent de Paul was born at Pouy, France on April 24, 1581. He was ordained a priest on September 23, 1600. Vincent devoted himself entirely to the alleviation of the sufferings of the poor, and to that purpose established the Confraternities of Charity, later known as the Ladies of Charity, in 1617. In 1625 he founded the Congregation of the Mission, his community of priests and brothers. With Louise de Marillac, he co-founded the Daughters of Charity in 1633. Vincent died in Paris on September 27, 1660 and was canonized in 1737. Pope Leo XIII declared him patron saint of all works of charity.
---
Mass Enrollment Cards
Our Lady of Angels Association offers enrollment cards for all occasions. Those enrolled share in the twelve Novenas of Masses offered annually for them and their intentions. Always FREE SHIPPING & HANDLING. Browse our selection. 

---
Niagara University Set to Celebrate 200th Anniversary of Vincentians in America
The first Vincentian university established in the United States has scheduled a full slate of events to celebrate the 200th anniversary of the arrival of the Vincentians in America.
Niagara University will commemorate the Congregation of the Mission's rich history of education and service in the spirit of St. Vincent de Paul during Vincentian Heritage Week.
The Congregation of the Mission is a community of Roman Catholic priests and brothers founded by St. Vincent de Paul in 1625 for the evangelization of the poor and the formation of the clergy. There are presently more than 4,000 Vincentians who serve in 86 countries.
The community's genesis in the U.S. dates back to July 26, 1816, when a brig carrying the Rev. Felix De Andreis, C.M., and 12 other Vincentian priests arrived in Baltimore.
Niagara University (established in 1856), St. John's University (1870) and DePaul University (1898) are the three Vincentian institutions of higher education located in the United States.
Also known as Founder's Week, Vincentian Heritage Week is a way for the Niagara University community to pay homage to St. Vincent and St. Louise de Marillac, the Patroness of Christian Social Workers who co-founded the Daughters of Charity with St. Vincent.
---
Annual Personalized Votive Lights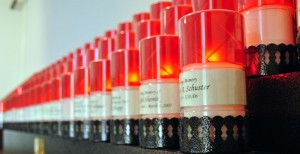 Our Lady of Angels Association is now offering a special way to memorialize  your loved ones or offer up your intentions. Although we continue to offer our traditional (non-personalized) votive lights, we now have  available lights that are inscribed with your special intention or  remembrance, and are lit for one year in Our Lady of Angels Votive Light Chapel on the campus of Niagara University. A tax deductible donation  of $75 per votive light is requested. You may specify a special  occasion – Birthday, Anniversary, Wedding or any brief wording of your choice. Light a Vigil Candle…
---