Devotion to Mary

Please be partners with us and the Vincentian family in our service to the poor.
2015 Membership
HELP US KEEP THE SPIRIT OF ST. VINCENT DE PAUL ALIVE…
HELP US MAKE A DIFFERENCE…BECOME A MEMBER.
This is how you can help. Through your generous support of Our Lady of Angels Association, you can help Vincentian priests and brothers to make a difference in the lives of thousands and thousands of people. Your generous donations will be put to use both in the United States and in foreign missions. They will be used to meet the spiritual and human needs of countless children, women and men. Read more…
Mass Enrollment Cards
Our Lady of Angels Association offers enrollment cards for all occasions. Those enrolled share in the twelve Novenas of Masses offered annually for them and their intentions. Always FREE SHIPPING & HANDLING. Browse our selection.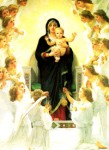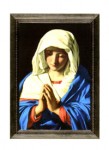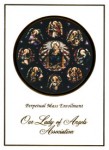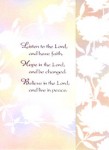 Our Lady of Angels Association Logo
No doubt you have seen the logo of Our Lady of Angels Association.  Possibly you have asked yourself what it means.  The outside circle reads 1918.  This refers to the year Father Martin Blake, C.M. founded the Association. 
As we look into the inner circle, we see it surmounted by a crown which represents Mary, Queen of Angels.  Beneath the crown is a diamond with a crescent moon, traditional symbols of Our Blessed Lady. On either side of the crown and diamond are wings representing angels.  Thus we have Mary, Queen of Angels.  
Beneath the symbol for Our Lady of Angels, we have the Latin word Fiat.  This means, "Thy will be done."  These are the words Our Blessed Lady spoke through the angel Gabriel at the Annunciation.  These words sum up beautifully her spirituality and the spirituality of every good Catholic – "Thy will be done."  Mary is a great model for Christians. May God grant us this blessing.  
Padded Mass Enrollment Folders
Our Lady of Angels offers Padded Mass Folders for Perpetual Enrollment, Gregorian Masses, Baptism, First Communion, Confirmation, Wedding and Wedding Anniversary.
You can rest assured that Our Lady of Angels Association respects your privacy
and does not rent, sell or lend your name to other organizations.