Please consider becoming a member or renewing your sustaining
membership in Our Lady of Angels Association for 2016.
Celebrating 65th Ordination Anniversary
On Sunday, June 5, 2016, the Vincentian Community in Philadelphia hosted family and friends of Vincentians from the Eastern Province who are celebrating significant ordination and vow anniversaries. Fr. Michael Kennedy, CM, is the most senior of these jubilarians, celebrating his 65th year of priesthood. This is his vocation story.
Born in Albany, NY, on May 16, 1922, to rugged Irish parents who brought "real faith from Ireland," Fr. Kennedy is the second of five children. He grew up in a very Irish Catholic neighborhood. His brother John became a Vincentian, while his younger brother Tom spent his life teaching with the Christian Brothers. When asked why he become a Vincentian, Fr. Kennedy answered: "I was attracted to what happened in the Church, especially during Mass, and had a curiosity about what priests did. I never had any formal counseling on what to do with this curiosity. I was too shy to ask. We three Kennedy brothers always served the Sunday Mass at 7 AM in my parish church, even after high school for two or three years. We felt that serving Mass was one way of calling on the Holy Spirit to push us to explore the possibility of a vocational life."
Fr. Kennedy further elaborates on his vocation discernment process. "I must test this 'attraction' more seriously, and so I turned up the intensity of prayer, especially through Maryl. I was open to the inspiration of the Holy Spirit's calling. I also asked a Daughter of Charity and a La Salle Brother for one-hour weekly Latin lessons. It worked. John went ahead of me to our Vincentian Seminary in Princeton, NJ. I met many of his happy classmates, whose joy from their option of priesthood preparation deeply impressed me. That was my choice, too, which I have never regretted."
His first assignment after ordination was general ministry at 500 E. Chelten Avenue, he said with a chuckle in his voice. When asked which ministry assignments he liked best, he answered, "The place I just left. I liked everyone. I was always sad to leave the place I had been, even those assignments that I thought would be really hard, beyond my capabilities. I've liked every place I've been. There's a certain joy, knowing what the needs are in a parish and cooperating with the people and working well with a PTA or parish council."
Reflecting on his past ministries, Fr. Kennedy says, "Every wedding and Baptism is an experience to cherish, as is the Sacrament of Reconciliation. Only a priest knows the joy of helping a prodigal come back to the Church." For young men considering a vocation, Fr. Kennedy advises them "to live your life with prayer. Live the sacramental life. Love the Church, and pray for guidance, especially to the Blessed Mother."
---
 Mass Enrollment Cards
Our Lady of Angels Association offers enrollment cards for all occasions. Those enrolled share in the twelve Novenas of Masses offered annually for them and their intentions. Always FREE SHIPPING & HANDLING. Browse our selection. 

---
Annual Personalized Votive Lights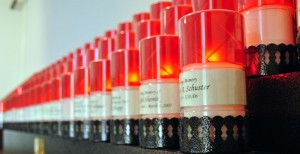 Our Lady of Angels Association is now offering a special way to memorialize  your loved ones or offer up your intentions. Although we continue to offer our traditional (non-personalized) votive lights, we now have  available lights that are inscribed with your special intention or  remembrance, and are lit for one year in Our Lady of Angels Votive Light Chapel on the campus of Niagara University. A tax deductible donation  of $75 per votive light is requested. You may specify a special  occasion – Birthday, Anniversary, Wedding or any brief wording of your choice. Light a Vigil Candle…
---