Weekly Message From the Director
Dear Friend of Our Lady of Angels,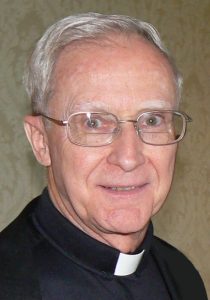 I continue the article I started last week: "The Blessed Virgin Mary in the Spiritual Experience of Saint. Vincent de Paul:" – this week I share with you the second approach for living the spiritual life: the Annunciation.
The Annunciation is a second approach for the spiritual life: it involves knowing how to offer oneself to God. This is the privilege of poor persons, in which according to St. Vincent, "true religion if preserved."
Mary gives herself to God without reserve, without hesitation because she has the soul of a poor person. As such, God can make of her "the beautiful gift of the Second Person of the Blessed Trinity."
When the angel went to salute the Blessed Virgin, he began by acknowledging that she was replenished with the grace of heaven: Hail, thou art full of grace, thou are laden down with God's favors. He recognized the fact and praised her as being full of grace.
And then what did he do? He made her the beautiful gift of the Second Person of the Blessed Trinity. The Holy Spirit, within her virginal womb formed a body. God created a soul, united it to this body. And immediately the Word united Himself to this soul and body by a wonderful union. And, in this manner, the Holy Spirit wrought the ineffable mystery of the Incarnation.
We are called to offer ourselves to God the Father, in the example of Christ and His Mother. We know how Saint Vincent insisted upon it: "Let us give ourselves to God to serve Him." Vincent's conference "On the Maxim, Seek first the Kingdom of God," is particularly striking on this subject. To seek the Kingdom of God is "to aspire after what has been recommended to us, to labor unceasingly for the Kingdom of God….Seek: seek, this implies care; this implies action."
I will continue to share the article in next week's, "Weekly Message."
Devotedly in Our Lady of Angels,


Rev. William J. O'Brien, C.M.