Weekly Message From the Director
Dear Friend of Our Lady of Angels,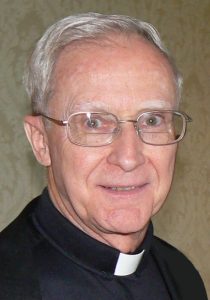 This "Weekly Message" is the continuation of the reading of St. Justin, martyr, taken from the Office of Readings for the Third Week of Easter entitled "Baptismal Regeneration."
The apostles taught us the reason for this ceremony of ours. Our first birth took place without our knowledge or consent because our parents came together, and we grew up in the midst of wickedness.
So if we were not to remain children of necessity and ignorance, we needed a new birth of which we ourselves would be conscious, and which would be the result of our own free choice.
We needed, too, to have our sins forgiven. This is why the name of God, the Father and Lord of the whole universe, is pronounced in the water over anyone who chooses to be born again, and who has repented of his sins.
The person who leads the candidate for baptism to the font calls upon God by this name alone, for God so far surpasses our powers of description that no one can really give a name to him. Anyone who dares to say that he can must be hopelessly insane.
This baptism is called "illumination" because of the mental enlightenment that is experienced by those who learn these things. The person receiving this enlightenment is also baptized in the name of Jesus Christ, who was crucified under Pontius Pilate, and in the name of the Holy Spirit, who through the prophets foretold everything concerning Jesus.
Many of the readings from the Office of Readings during the 50 days of the Easter Season and a number of the opening prayers for Masses during this same time speak of baptism. In the early Church adults and children were received into the Community during the Easter Vigil Service. In recent years, the Rite of Christian Initiation was restored and many individuals prepared for baptism during Lent to be received into the Church during the Easter Vigil Service.
Devotedly in Our Lady of Angels,


Rev. William J. O'Brien, C.M.